The Village: Baby, Let's Do This Together!
Starts January 8, 2023 - Ends February 10, 2023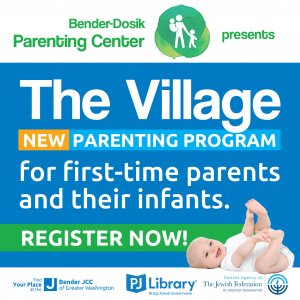 The Village: Baby, Let's Do This Together!
A new parenting class for first-time parents and their infants
Sunday, January 8 – Friday, February 10
Cost: $300 per family
For pro-rate options, please email Jen Radosh
Becoming a new parent is one of life's most exciting milestones, but it can also be exhausting, frustrating, and surprisingly lonely. So, we created The Village, a community of first-time parents going through the same things you are, at the same time. One-part support group, one-part parenting class, The Village unlocks a supportive and fun environment that can spark friendships that will last your – and your child's – lifetime.
The Bender JCC welcomes you to six classes which conclude with a very special Family Shabbat dinner. All classes are curated with you and your baby in mind. Feel free to stop and change a diaper, get some water, nurse, etc. If you prefer privacy, you will have access to adult locker rooms.
This class is best suited for first-time parents with a child between 0 and 12 months old.
Find your village today!
Support Group: Sunday, January 8 | 9:00 – 10:30 AM
Jennifer Udler, LCSW-C, will help you navigate common themes/conversations surrounding being a parent to a new baby. Everything from feeding to your changing feelings, self-care, and work-life balance. This a great opportunity to share in a safe space guided by a clinician.
Rhythm and Ruach: Sunday, January 15 | 9:00 – 9:45 AM
Rhythm 'N' Ruach uses high-energy music, movement, and instruments to encourage the joyfully Jewish learner. Research has shown that music is an anchor in keeping people connected to their cultural identity.
Yoga: Sunday, January 22 | 3:00 – 4:00 PM
Strengthen, stretch, and relieve stress while getting to know other parents and babies. Includes parent-baby postures and massage techniques designed to promote bonding with each other and bring a sense of calm to the baby. No yoga experience is necessary.
Mindfulness: Sunday, January 29 | 9:00 – 10:30 AM
This class covers the basic principles of mindfulness as a practice for real life as new parents. Learn the mindfulness tools to manage thoughts and emotions, and use basic breath work, meditation, and mindful perspective to approach common human experiences. Learn how to parent with acceptance, and find your resilience. This class is taught by Gianna Vallefuoco; a local artist, entrepreneur, mindfulness teacher, and mom.
Messy Art: Sunday, February 5 | 4:00 – 4:45 PM
Don't have a moment to google baby keepsake ideas and run to an art supply store? Lilach Cohen-Holden, a local art and yoga teacher, will lead you (and your baby) in a fantastic art experience. At the end of the class, you will have a work of art to showcase in your home! All materials will be provided in the class.
Family Shabbat Dinner: Friday, February 10 | 5:30 – 7:00 PM
What better way to conclude your experience than to share in a Family Shabbat Dinner? Enjoy a night of good conversation, food, wine, and dessert with your new friends. And most importantly you have a night off from doing dishes!
Bonus Activities: PJ Library / Federation is gifting special Shabbat kits so you can easily celebrate Shabbat at home with your new friends. Looking for other activities to do with your new friends? Enjoy a complimentary day at the J! My favorite family-friendly activities include the indoor and year-round outdoor pool.
---