The Real Lives of Women in Biblical Times
April 14, 2021
8:00 PM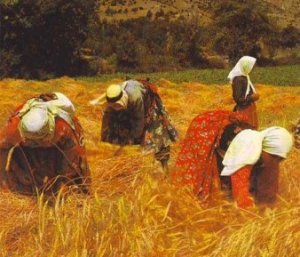 Wednesday, April 14, 2021, at 8 pm EST via Zoom
The Real Lives of Women in Biblical Times
Beth Alpert Nakhai, University of Arizona
The Hebrew Bible (Tanakh/Old Testament) is filled with stories about women, but no single story provides a complete picture of women's lives – nor is any biblical woman meant to be typical of all Israelite women. So, how can we more fully understand the lives of Israelite women – and in that way, develop a fuller understanding of the lives of all ancient Israelites, those mentioned in the Bible and those the Bible never discussed?
Archaeology offers an alternate resource, one that allows us to go beyond the Bible in order to examine everyday life in Iron Age Israel. It brings us into villages and homes, and shows us dishes and tools, shrines and figurines, workplaces and tombs. This illustrated presentation uses archaeological resources to explore the lives of Israelite women, helping us place the biblical narratives into their ancient real-life setting.
Beth Alpert Nakhai, is an Associate Professor at the Arizona Center for Judaic Studies at the University of Arizona
---
BAF and its sister organization in Northern Virginia (BASONOVA), are delighted to announce a joint resumption of their lecture series on the ancient Near East and Eastern Mediterranean. This series will be broadcast "live" via Zoom, and "attendees" will be able to direct questions of the presenters.
How to Access the Lecture Series
We will announce additions to the line-up of presenters on a regular basis, as it is our aim to offer more than one event each month. Members will also receive a regular listing of recommended lectures in the public domain.
If you wish to subscribe to the series*, please access the BASONOVA PayPal portal and use a credit card for a one-year subscription ($35 per family). Go to: http://www.basonova.org/membership-form.html
It is also possible to access the series one lecture at a time, for $6 per lecture. To receive your single-lecture Zoom invitation, go to: http://www.basonova.org/next-lecture-reservation.html
*Maryland residents will be enrolled in BAF and Virginians will be enrolled in BASONOVA. There is no advantage in enrolling in one group versus the other, only that when in-person lectures begin again you will be apportioned to the group that matches your state of residence.