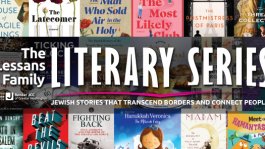 The Lessans Family Literary Series Presents
Meg Waite Clayton, The Postmistress of Paris
Thursday, May 9 | 7:00 PM | $10 | Virtual – Via Zoom
The Bender JCC is thrilled to welcome back New York Times bestselling author, Meg Waite Clayton for a virtual presentation of her international bestseller, The Postmistress of Paris. Meg will be in conversation with Bender JCC community member and author, Deborah Kalb.
For more information, please contact Marcie Blackman at mblackman@benderjccgw.org or 301-348-3808.
ABOUT THE BOOK
The New York Times bestselling author of The Last Train to London revisits the dark early days of the German occupation in France in this haunting novel—a love story and a tale of high-stakes danger and incomparable courage—about a young American heiress who helps artists hunted by the Nazis escape from war-torn Europe.
Wealthy, beautiful Naneé was born with a spirit of adventure. For her, learning to fly is freedom. When German tanks roll across the border and into Paris, this woman with an adorable dog and a generous heart joins the resistance. Known as the Postmistress because she delivers information to those in hiding, Naneé uses her charms and skill to house the hunted and deliver them to safety.
Photographer Edouard Moss has escaped Germany with his young daughter only to be interned in a French labor camp. His life collides with Nanée's in this sweeping tale of romance and danger set in a world aflame with personal and political passion.
Inspired by the real life Chicago heiress Mary Jayne Gold, who worked with American journalist Varian Fry to smuggle artists and intellectuals out of France, The Postmistress of Paris is the haunting story of an indomitable woman whose strength, bravery, and love is a beacon of hope in a time of terror.
ABOUT THE AUTHOR
New York Times bestseller and book club favorite Meg Waite Clayton is the author of eight novels, most recently the international bestseller The Postmistress of Paris. Her international bestseller and National Jewish Book Award finalist The Last Train to London is published or forthcoming in 20 languages. Her screenplay for that novel was chosen for the prestigious Meryl Streep and Nicole Kidman sponsored The Writers Lab.
Meg's prior novels include the #1 Amazon fiction bestseller Beautiful Exiles; the Langum Prize honored The Race for Paris; The Wednesday Sisters, named one of Entertainment Weekly's 25 Essential Best Friend Novels of all time (on a list with The Three Musketeers!); and The Language of Light, a finalist for the PEN/Bellwether Prize for Socially Engaged Fiction. She has written more than 100 shorter pieces for the Los Angeles Times, The New York Times, The Washington Post, Runner's World, and public radio, often on the particular challenges women face. She mentors for the OpEd Project and is a member of the National Book Critics Circle and the California bar.