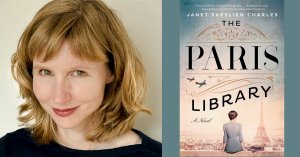 Tuesday, June 15 | 11:00 AM | Free
The Paris Library by Janet Skeslien Charles
Based on the true World War II story of the heroic librarians at the American Library in Paris, this is an unforgettable story of romance, friendship, family, and the power of literature to bring us together.
Paris, 1939: Young and ambitious Odile Souchet has it all: her handsome police officer beau and a dream job at the American Library in Paris. When the Nazis march into Paris, Odile stands to lose everything she holds dear, including her beloved library. Together with her fellow librarians, Odile joins the Resistance with the best weapons she has: books. But when the war finally ends, instead of freedom, Odile tastes the bitter sting of unspeakable betrayal.
Montana, 1983: Lily is a lonely teenager looking for adventure in small-town Montana. Her interest is piqued by her solitary, elderly neighbor. As Lily uncovers more about her neighbor's mysterious past, she finds that they share a love of language, the same longings, and the same intense jealousy, never suspecting that a dark secret from the past connects them.

---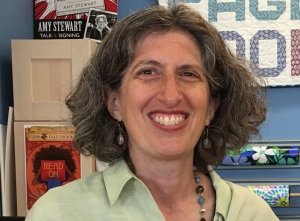 ABOUT THE MODERATOR
Deborah Kalb is a freelance writer and editor. She spent about two decades working as a journalist in Washington, D.C., for news organizations including Gannett News Service, Congressional Quarterly, U.S. News & World Report, and The Hill, mostly covering Congress and politics. Her book blog, Book Q&A's with Deborah Kalb, which she started in 2012, features hundreds of interviews she has conducted with a wide variety of authors.
She is the author of the new children's book The President and Me: John Adams and the Magic Bobblehead (Schiffer, 2018), the second in a series — after The President and Me: George Washington and the Magic Hat (Schiffer, 2016) — and the co-author, with her father, Marvin Kalb, of Haunting Legacy: Vietnam and the American Presidency from Ford to Obama (Brookings, 2011). She is the editor of the new two-volume reference book, Guide to U.S. Elections, 7th edition (CQ Press/SAGE, 2016), the co-author of The Presidents, First Ladies, and Vice Presidents (CQ Press, 2009), and the co-editor of State of the Union: Presidential Rhetoric from Woodrow Wilson to George W. Bush (CQ Press, 2007), and has contributed updates to a variety of CQ Press books on politics and government.