The Lessans Family Literary Series Presents: BYOB: Florence Adler Swims Forever with Rachel Beanland
October 6, 2020
12:00 PM
Purchase Tickets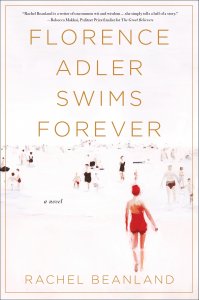 The Lessans Family Literary Series Presents: BYOB: Florence Adler Swims Forever with Rachel Beanland
October 6 | 12:00 PM | $10
"The Bender JCC is thrilled to present a new series especially for book lovers: BYOB (Bring Your Own Book): Intimate Discussions with Authors. Each month the Bender JCC will host an author who will lead us in a lively book club-style discussion of his/her newest book.
Please join us for the second installment in our BYOB Series featuring Rachel Beanland, author of Florence Adams Swims Forever.
Based on a true story and told in the vein of J. Courtney Sullivan's Saints for All Occasions and Anita Diamant's The Boston Girl, Beanland's family saga is a breathtaking portrait of just how far we will go to in order to protect our loved ones and an uplifting portrayal of how the human spirit can endure—and even thrive—after tragedy.
Bring your lunch, questions, and opinions to share with fellow book lovers and the author herself. Rachel will give a short presentation on her book and then we will open it to our participants to continue the conversation.
Florence Adler Swims Forever can be ordered through Politics & Prose, a local bookstore in Washington, DC. Books ordered through Politics & Prose will include a signed bookplate. Click the registration link and use your 10% promo code included in your registration confirmation email to order your copy.
The Zoom link for the event will be emailed to all registrants 24 hours before the program.
Please check your email between 12:00 – 2:00 PM the day before the program to make sure you received the Zoom link. If it's not in your "inbox," please check "junk" or "spam" folders.
No confirmation? Please contact Marcie Blackman at mblackman@benderjccgw.org.
ABOUT THE BOOK
Atlantic City, 1934. Every summer, Esther and Joseph Adler rent their house out to vacationers escaping to "America's Playground" and move into the small apartment above their bakery. Despite the cramped quarters, this is the apartment where they raised their two daughters, Fannie and Florence, and it always feels like home.
Now Florence has returned from college, determined to spend the summer training to swim the English Channel, and Fannie, pregnant again after recently losing a baby, is on bed rest for the duration of her pregnancy. After Joseph insists they take in a mysterious young woman whom he recently helped emigrate from Nazi Germany, the apartment is bursting at the seams.
Esther only wants to keep her daughters close and safe but some matters are beyond her control: there's Fannie's risky pregnancy—not to mention her always-scheming husband, Isaac—and the fact that the handsome heir of a hotel notorious for its anti-Semitic policies, seems to be in love with Florence.
When tragedy strikes, Esther makes the shocking decision to hide the truth—at least until Fannie's baby is born—and pulls the family into an elaborate web of secret-keeping and lies, bringing long-buried tensions to the surface that reveal how quickly the act of protecting those we love can turn into betrayal.
ABOUT THE AUTHOR
Rachel Beanland writes fiction and essays. Her essays have appeared in Creative Nonfiction and Broad Street, among other places. She has an MFA in creative writing from Virginia Commonwealth University and holds bachelor's degrees in art history and journalism from the University of South Carolina. Before turning to writing full-time, Rachel worked in public relations and nonprofit management. She lives in Richmond, Virginia with her husband and three children.