The Late Bronze Age Palaces of Hazor
November 19, 2019
8:00 PM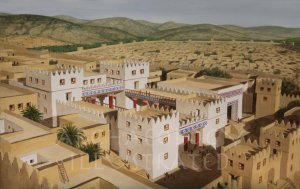 The Late Bronze Age Palaces of Hazor
Shlomit Bechar
Tel Hazor is the largest biblical-era site in modern-day Israel.  It emerged as an impressive urban Canaanite settlement during the Middle Bronze Age.  Its inhabitants developed close ties with the northern Levantine kingdoms in Syrian and Lebanon. During the Late Bronze Age, Hazor residents also established a strong connection with the Egyptian empire.
This illustrated presentation will focus on two monumental royal buildings, both dating to the Late Bronze Age.  One structure is a large ceremonial building located in the center of the acropolis, while the other is the administrative palace of Hazor.
Some of the most important and impressive finds of Hazor in particular, and in Israel in general, were unearthed in these buildings. The importance of these structures and their contents in understanding Hazor in the Late Bronze Age political and commercial spheres will be the focus of this lecture.
Shlomit Bechar, Hebrew University and co-director of excavations at Hazor.
Fees per lecture are
free – high school students;
$5 – Residents of CES Life Communities, college students, and co-sponsors;
$8 – BASONOVA & Bender JCC members, a
$10 – the general public.
Pay at the door – cash or check only
To subscribe to the entire 8 session lecture series for $48, or for more information, please contact BAF.JCCGW@gmail.com.