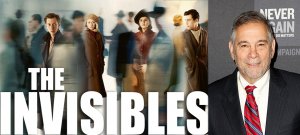 PASSPORT J: THE INVISIBLES
Talkback with guest speaker, Michael Berenbaum.
Monday, April 26 l 5:00 PM l $10
German/English Subtitles l Docudrama l 110 minutes
We present this compelling film in commemoration of Yom HaShoah. It is a testament to the willpower, resourcefulness, and sheer chance needed to survive against incredible odds.
In June 1943, while the German government infamously declared Berlin "judenfrei"—free of Jews, 1,700 Jewish Berliners managed to survive in the Nazi capital. In this extraordinary film, director Claus Raefle tells the story of four of those Jewish "invisibles" who hid in plain sight throughout the war. The Invisibles brings suspense to a remarkable, true story by using a hybrid of documentary and highly accomplished dramatizations.
On Friday, April 23, you will receive a link to screen the film, The Invisibles. Watch it on your own, any time between Friday, April 23 and Monday, April 26. Please screen it before the discussion.
Join us virtually on Monday, April 26, at 5:00 PM for the talkback and Q&A with our guest speaker, Michael Berenbaum. He is an American scholar, professor, rabbi, writer, and filmmaker, who specializes in the study of the Holocaust.
**You will receive the link for the talkback on the morning of April 26.
Questions?
Contact Frieda Enoch: fenoch@benderjccgw.org