The House of the Sun-Disc
July 28, 2021
8:00 PM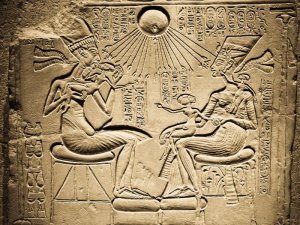 Wednesday, July 28, 2021, at 8 pm EST via Zoom
The House of the Sun-Disc
Susan Redford, Penn State University
For reasons only dimly perceived, the Pharaoh Akhenaten of Egypt in the 14th century B.C. carried Egypt unexpectedly into a stage of religious thought we can only call "monotheism".
The lecture will present some of the most important evidence (hitherto only partly accessible) related to the Amarna revolution in Ancient Egypt. This involves new discoveries from Theban Tomb188, the only tomb in the Theban necropolis dated wholly and securely to the reign of the heretic pharaoh Akhenaten. The tomb belonged to Parennefer, the tutor and erstwhile butler of the king.
The rapid evolution in the realms of ideology, iconography and permissible artistic themes and motifs is well represented in Parennefer's tomb, whose decoration kept pace with the momentous changes in the king's thinking. When dovetailed with the pictorial evidence gleaned from the excavations of the great Gem-pa-aten temple at Karnak, it becomes possible to chronicle these rapid changes.
---
BAF and its sister organization in Northern Virginia (BASONOVA), are delighted to announce a joint resumption of their lecture series on the ancient Near East and Eastern Mediterranean. This series will be broadcast "live" via Zoom, and "attendees" will be able to direct questions of the presenters.
How to Access the Lecture Series
We will announce additions to the line-up of presenters on a regular basis, as it is our aim to offer more than one event each month. Members will also receive a regular listing of recommended lectures in the public domain.
If you wish to subscribe to the series*, please access the BASONOVA PayPal portal and use a credit card for a one-year subscription ($35 per family). Go to: http://www.basonova.org/membership-form.html
It is also possible to access the series one lecture at a time, for $6 per lecture. To receive your single-lecture Zoom invitation, go to: http://www.basonova.org/next-lecture-reservation.html
*Maryland residents will be enrolled in BAF and Virginians will be enrolled in BASONOVA. There is no advantage in enrolling in one group versus the other, only that when in-person lectures begin again you will be apportioned to the group that matches your state of residence.