The Fugitive Hero Stories in the Bible and the Ancient Near East
February 24, 2021
8:00 PM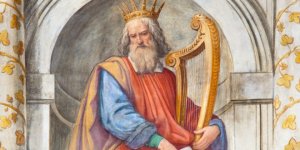 Wednesday, February 24, 2021 at 8 pm EST via Zoom
The Fugitive Hero Stories in the Bible and the Ancient Near East
Edward Greenstein
Were there precursors in the ancient world to the biographical stories of Joseph, Jacob, Moses and David as related in the Hebrew Bible?
Indeed, the early story of the people Israel reflect a narrative pattern evident in many other ancient societies such as the Egyptian story of Sinuhe, the north Syrian "autobiography" of Idrimi King of Alalakh, the so-called Apology of Hattushili III of the Hittite Empire, the royal narrative of Esarhaddon of Assyria, and the narrative of Nabonidus King of Babylonia.
These foundational stories all tell of a person who is compelled to flee their native land. Desiring to return from exile, the person practices divination or receives a message from god that they can return home with divine support. En route, the protagonist fights off attacks and finally attains power or prestige at home. What else these tales have in common is that they all conclude with a cultic ritual or, more often, with the renewal or invention of a cult.
Edward Greenstein is a Professor of Bible at Bar-Ilan University
---
BAF and its sister organization in Northern Virginia (BASONOVA), are delighted to announce a joint resumption of their lecture series on the ancient Near East and Eastern Mediterranean. This series will be broadcast "live" via Zoom, and "attendees" will be able to direct questions of the presenters.
How to Access the Lecture Series
We will announce additions to the line-up of presenters on a regular basis, as it is our aim to offer more than one event each month. Members will also receive a regular listing of recommended lectures in the public domain.
If you wish to subscribe to the series*, please access the BASONOVA PayPal portal and use a credit card for a one-year subscription ($35 per family). Go to: http://www.basonova.org/membership-form.html
It is also possible to access the series one lecture at a time, for $6 per lecture. To receive your single-lecture Zoom invitation, go to: http://www.basonova.org/next-lecture-reservation.html
*Maryland residents will be enrolled in BAF and Virginians will be enrolled in BASONOVA. There is no advantage in enrolling in one group versus the other, only that when in-person lectures begin again you will be apportioned to the group that matches your state of residence.