The Destruction of Sacred Texts in Biblical Antiquity
May 12, 2021
8:00 PM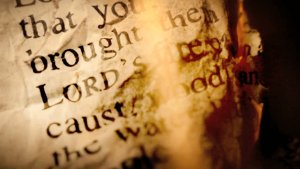 Wednesday, May 12, 2021 at 8 pm EST via Zoom
The Destruction of Sacred Texts in Biblical Antiquity
Nathaniel Levtow, University of Montana
The intentional destruction of texts dates back to the beginnings of writing in Mesopotamia and has for millennia been associated with violence against human beings. From the burning of the Talmud in Medieval Europe to the burning of the Qur'an in contemporary America, the public violation of sacred texts has remained a powerful expression of symbolic violence and cross-cultural conflict.
In the ancient world, however, writing was a ritual activity that could physically embody divine will and human relationships through words inscribed upon stones, tablets, and scrolls. This was especially true in the ancient Near East, where the destruction of texts was explicitly linked to the destruction of cities, gods, people, and the world itself.
This illustrated presentation will explore the variety of ways in which law codes, written spells and oracles, royal monuments, inscribed statues, and treaty tablets were burned, smashed, cut, buried, submerged, eaten, hidden, abducted, erased, and rewritten.
Nathaniel Levtow is Associate Professor of History at the University of Montana
---
BAF and its sister organization in Northern Virginia (BASONOVA), are delighted to announce a joint resumption of their lecture series on the ancient Near East and Eastern Mediterranean. This series will be broadcast "live" via Zoom, and "attendees" will be able to direct questions of the presenters.
How to Access the Lecture Series
We will announce additions to the line-up of presenters on a regular basis, as it is our aim to offer more than one event each month. Members will also receive a regular listing of recommended lectures in the public domain.
If you wish to subscribe to the series*, please access the BASONOVA PayPal portal and use a credit card for a one-year subscription ($35 per family). Go to: http://www.basonova.org/membership-form.html
It is also possible to access the series one lecture at a time, for $6 per lecture. To receive your single-lecture Zoom invitation, go to: http://www.basonova.org/next-lecture-reservation.html
*Maryland residents will be enrolled in BAF and Virginians will be enrolled in BASONOVA. There is no advantage in enrolling in one group versus the other, only that when in-person lectures begin again you will be apportioned to the group that matches your state of residence.