The Blood-Drenched Sea
September 2, 2020
8:00 PM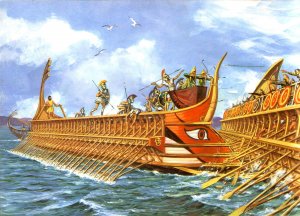 Wednesday, September 2, 2020 at 8 pm EST via Zoom
The Blood-Drenched Sea
Alfred S. Bradford, University of Oklahoma
This presentation will begin with highlighting the only physical representation of an ancient sea battle, memorialized in an Egyptian temple relief. This battle featured an array of Sea Peoples contesting with the naval forces of Pharaoh Ramses III early in the twelfth century BCE.
The next phase of the lecture will focus on naval clashes for which there were eye-witness accounts, such as the Battle of Salamis, fought between an alliance of Greek city-states and the Persian Empire in 480 BCE. Later that century Thucydides' wrote an account of the Peloponnesian War that featured ships such as triremes, sea battles, and naval policy. Little physical evidence survives of triremes, yet we know Thucydides commanded a squadron of this feared ship of war.
The final element of the presentation will feature accounts derived from secondary sources, such as the sea battles of the First Punic War. The Roman Republic lost countless ships and crews during the First Punic War, due to storms and engagements with the Carthaginians. In terms of ships and casualties, this was the costliest naval war ever fought. In particular, the disaster off the coast Camarina, Sicily in 255 BCE destroyed two hundred seventy Roman ships with over one hundred thousand dead.
Alfred S. Bradford holds the John Saxon Chair in Ancient History at the University of Oklahoma
---
BAF and its sister organization in Northern Virginia (BASONOVA), are delighted to announce a joint resumption of their lecture series on the ancient Near East and Eastern Mediterranean. This series will be broadcast "live" via Zoom, and "attendees" will be able to direct questions of the presenters.
How to Access the Lecture Series
We will announce additions to the line-up of presenters on a regular basis, as it is our aim to offer more than one event each month. Members will also receive a regular listing of recommended lectures in the public domain.
If you wish to subscribe to the series*, please access the BASONOVA PayPal portal and use a credit card for a one-year subscription ($35 per family). Go to: http://www.basonova.org/membership-form.html
It is also possible to access the series one lecture at a time, for $6 per lecture. To receive your single-lecture Zoom invitation, go to: http://www.basonova.org/next-lecture-reservation.html
*Maryland residents will be enrolled in BAF and Virginians will be enrolled in BASONOVA. There is no advantage in enrolling in one group versus the other, only that when in-person lectures begin again you will be apportioned to the group that matches your state of residence.