The Battle of Kadesh
March 25, 2020
8:00 PM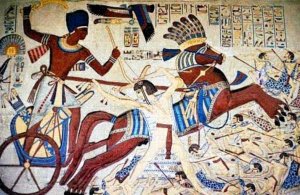 The Battle of Kadesh | Betsy Bryan
The Battle of Kadesh, sometimes called the first world war, featured one of the largest-ever chariot battles. It was fought in 1275 B.C.E. in present-day Syria between the Egyptians under Pharaoh Ramses II, and the Hittites under King Muwatalli II who were supported by eighteen of their allies and vassal states.
The invasion by Ramses II sought to wrest Syria from the Hittites and recapture the Hittite-held city of Kadesh. Ramses II led his forces into an ambush by 2,500 Hittite chariots, lured by Hittite spies who gave false information to their Egyptian captors.
The battle may be the earliest military action recorded in detail, mostly from Egyptian sources which proclaimed the siege a great victory for Ramses II. Some historians disagree and proclaim the encounter a Hittite victory as Ramses failed to achieve his military objective. A draw?
This illustrated lecture will lay the predicate for the Battle, follow the contours of the military engagement and discuss its aftermath.
Betsy Bryan is the Alexander Badawy Chair in Egyptian Art and Archaeology at Johns Hopkins University
Fees per lecture are
free – high school students;
$5 – Residents of CES Life Communities, college students, and co-sponsors;
$8 – BASONOVA & Bender JCC members, a
$10 – the general public.
Pay at the door – cash or check only
To subscribe to the entire 8 session lecture series for $48, or for more information, please contact BAF.JCCGW@gmail.com.