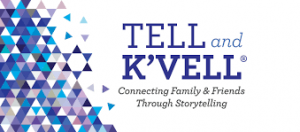 TELL & K'VELL LUNCHEON
Hosted by Coming of Age
Tuesday, November 2 l 12:00 PM l $15
Join Coming of Age in-person at the JCC (outdoors, weather permitting) for a delicious kosher luncheon followed by a game of Tell & K'vell.
*K'vell: To be delighted, "to well, gush, or swell."
You might be asked:
"Who were you named for, and what do you know about that person?"
"What historical event happened in your youth that had an impact on you?"
"What makes you Kvell*?"
Have a fabulous time talking and laughing together, while competing for prizes. Boxed lunch will include choice of sandwich, salad, chips, cookie and chocolate.