Pre-order Deadline: 2:00 PM | Sunday, September 2
Cafe Sunflower will have a plentiful assortment of Rosh Hashanah items daily for sale through the High Holidays!
Baking up sweet flavors to ring in the New Year!
Mission Statement:
Sunflower Bakery prepares young adults with learning differences through professional on-the-job training for employment in pastry, baking, and related food industries.
Make Rosh Hashannah extra sweet and place your order today! Pick-up your order right here, at the Bender JCC!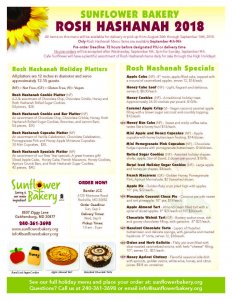 View Menus
Rosh Hashanah Menu

All items on this menu will be available for pick up at the Bender JCC on Wednesday, September 5
Pre-order Deadline: 2:00 PM, Sunday, September 2