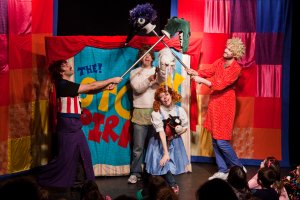 Story Pirates has SOLD OUT!
Stories by children from Charles E. Smith Jewish Day School and Bender JCC Early Childhood Center are brought to life on stage by the Story Pirates' professional and hilarious improv actors – brimming with music, costumes and sets. Story Pirates first received national attention in 2008 when comedian Jon Stewart called the ensemble "crazy entertaining" on CNN.
Since that time, they've been described as a "mix between School House Rock and Monty Python," and the New York Times called the group a "theatrical treasure."
Learn how Story Pirates encourages kids to write and be creative.
For more information, contact Lauren Dworkin or call 301-348-3837