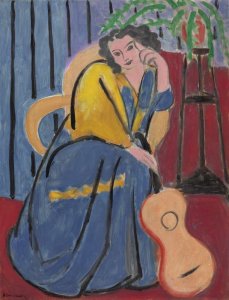 J TALKS: Recovering the Lost Stories of Looted Art
Thursday, January 6 I 2:00 PM I $10
Join us for a special private docent-led tour of the Jewish Museum's special exhibition in its final week!
During World War II, untold numbers of artworks and pieces of cultural property were stolen by Nazi forces. After the war, an estimated one million artworks and 2.5 million books were recovered. Many more were destroyed. This exhibition chronicles the layered stories of the objects that survived, exploring the circumstances of their theft, their post-war rescue, and their afterlives in museums and private collections.
In the Press
While the work itself is certainly extraordinary (the names Henri Matisse, Pablo Picasso, PaulKlee, Marc Chagall and many others speak for themselves) the stories of how this material made its way from private collections in Europe to the safety of Fifth Avenue in Manhattan are fascinating. — The Guardian
The exhibition at the Jewish Museum is small, but it manages to convey the vastness of what was lost by presenting some of the art that survived. — The New Yorker
A New York show of masterpieces, stolen by the Nazis and then recovered, highlights how people worked to save and repair a shattered culture. — Financial Times
But the narrative that propels 'Afterlives' is not just about tragedy of the Nazis' ethnocidal plunder. It's also about the many artworks and artifacts that survived. — The Observer
This is a virtual event. You will receive a zoom link the morning of the event. We look forward to seeing you on Zoom!
Questions? Contact Frieda Enoch fenoch@benderjccgw.org or Lindsay Frankel lfrankel@benderjccgw.org