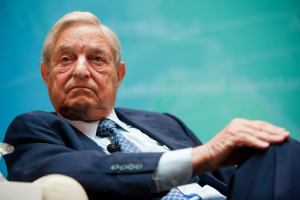 CINEMA J MATINEE @ LEISURE WORLD: SOROS
Tuesday, August 31 I 1:30 PM
Fee: $8 [in advance]; $10 [Day of]; ONLY checks accepted for day-of ticket purchases; NO cash.
*Screening Location: Clubhouse II Auditorium; 3300 N. Leisure World Boulevard.
NOTE: INDOORS, IN-PERSON; OPEN TO ALL
George Soros is a highly influential and controversial figure. The documentary, "Soros," spotlights a complicated man and explores his history and activism, highlighting his life as a Holocaust survivor, successful investor, and philanthropist.
The film opens with a montage in which the financier George Soros is shown as the object of unrelenting anti-Semitic conspiracy theories. Why is he so hated, so controversial?! What is he passionate about?
Discussion to follow.
*Presented by Bender JCC-CoA and JRLW.
Questions? Please contact Frieda Enoch:
fenoch@benderjccgw.org or at 301-348-3809.
Health Notice for In-Person Programs: Masking is required indoors; Vaccinations for eligible participants is strongly encouraged; Social distancing and/or capacity restrictions may be in place. The Bender JCC follows all Montgomery County Health Department guidelines.