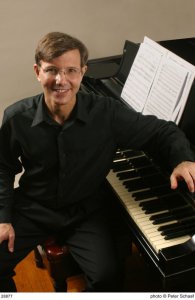 JTalks: Great American Songbook with Rob Kapilow
Thursday, May 6 I 3:00 PM I $10
Winner of numerous major awards, Rob Kapilow gives a knockout presentation, captivating audiences with his vast musical knowledge, sense of humor, and careful analysis of what makes music such a rich, fulfilling experience. He chronicles the evolution of pop music from blues and jazz to Broadway musicals.
**A special bonus: Rob Kapilow will play the piano, performing one of the most famous musical theatre songs ever written, showing us what makes it tick!
Rob Kapilow is an author, composer, conductor, and music commentator who has traveled the world as a guest speaker. He makes frequent appearances on PBS and is the host of the hit NPR music radio program, What Makes It Great? Kapilow's most recent book, The Great American Songbook, is the Finalist–Marfield-Prize [National Award for Arts Writing] and is recognized as a national treasure.
You will receive the link on the morning of the program. We look forward to seeing you on Zoom!
Questions? Contact Frieda Enoch fenoch@benderjccgw.org