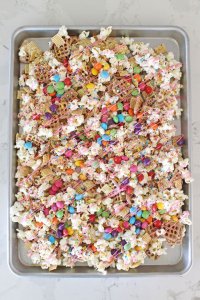 VIRTUAL Family Fun Day:  Making Movie Time Snacks!
Friday, December 25 | 10:45 AM
Cost: Free
Where: You will receive a zoom link 24hrs prior to the program
Getting cozy at home for a fun day of movie watching?  Sweeten your viewing experience with a creative and delicious movie day snack!!  We'll give you a list of ingredients in advance and you and your child will cook along with us on zoom.
Purchase the following recipe at home and we'll make it and shake it together!  Please measure the ingredients in advance.
6 cups popped popcorn air-popped
2 cups mini pretzels
2 cups of cereal of your choice
3/4 cup of M&Ms
2 tablespoons sprinkles
10 oz of white chocolate or white candy melts
Food coloring (optional)
Other items:
Large bowl and spoon for mixing
Large baking sheet to put the popcorn mixture on it
Microwave safe bowl melt chocolate in
Please see the original recipe here.
If you have any questions, contact Jennifer Radosh at jradosh@benderjccgw.org.
Sponsored by: