Smiles Across the Miles: A Magical Morning featuring Drew Blue Shoes
February 14, 2021
10:00 AM
Purchase Tickets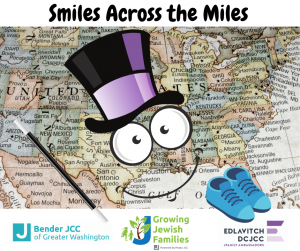 Smiles Across the Miles: A Magical Morning featuring Drew Blue Shoes
Sunday, February 14 | 10:00 AM
Deadline for mailed kits: February 1st
Cost: $10/household for the show, $7/smile kit*
Where: zoom
Fun for the entire family!
Spend a magical morning with one of the DMV's "Funniest Kids Entertainers" — Magician Drew Blue Shoes! Enjoy eye-popping illusions, sidesplitting humor, and more! Add even more fun and purchase a "smile kit" to enhance your experience!
We encourage you to share the experience with relatives from across the miles! If you would like to "smile" someone and send them a show invite and a smile kit (s), we'll be happy to get it to them, no matter the distance. We will include a card saying – "You've Been Smiled" by (your name).
*We will try our best, but cannot guarantee postal delivery by showtime.
Presented by the Pozez JCC of Northern Virginia's Growing Jewish Families, Edlavitch EDCJCC, Bender JCC, and PJ Library of Greater Washington and funded by The Jewish Federation of Greater Washington and The United Jewish Endowment Fund.