She Says – The Third Act: What's My Next Move?
January 24, 2019
7:00 PM
She Says: Real Women, Real Conversations, a program in partnership with the Bender JCC and Jewish Women International (JWI) is a unique program for women to have honest, authentic conversations about relevant issues of today.
In this four-part series is women will share insights and experiences and lead thought-provoking conversations on a variety of relevant and challenging topics affecting women today. This program is intended for women only.
Beverages and light food served.
Panelists:
Kim Cohen
Artist, Teacher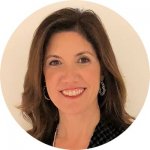 Kim Cohen's goal as an artist is to evoke emotion from the viewer. Her unique style and technique vary depending on her inspiration, often incorporating pops of color, mixed media, digital, oil and acrylic paint. Kim captures the real essence of her subject while adding her personal flair to impact the painting and create something memorable.
Kim's passion and love for art began at a young age, winning a national drawing contest at age 7. She continued to pursue art as a career, after receiving a Bachelor's degree in Art Education at the University of Maryland.   Kim taught art classes at Walt Whitman High School, preparing students for college art programs and careers of their own.  After teaching Kim started a clothing company called Cutie Pie, designing original children's clothing and accessories for retailers.
Currently, she teaches individual and small group private art classes to adults with varying abilities in her art studio. Kim cultivates each students' artistic talent while incorporating meditation and mindfulness as a foundation for her teaching style. She inspires her students to appreciate and see the world differently.
Kim resides in Potomac, Maryland with her family. Her work is currently featured at various art shows, restaurants and private residences around the country. Kim continues to pursue her own art education while studying under a master artist.
Kim generously leverages her artistic talent to frequently give back to her community, with proceeds from her artwork benefitting organizations like Power of Pink-Breast Cancer, Adoptions Together, Cystic Fibrosis, Keen, and local school auctions.
---
Lisa Friedlander
Lawyer, Entrepreneur, Activity Rocket Co-Founder

Lisa was born and raised in Montgomery County, MD and after attending the University of Pennsylvania undergrad returned to DC to get her JD at The American University Washington College of Law.
Lisa practiced telecommunications and corporate law for nearly 15 years. After marrying Scott and having 3 kids – Jaclyn, Cole, and Camryn, Lisa became an entrepreneur co-founding Activity Rocket with her close friend Ilene Miller. Activity Rocket is an Expedia for Kids Classes, Camps & Sports. After building a full activity marketplace with over 700 activity providers and 100,000 activities listed, Activity Rocket was acquired by a west coast educational platform called Thrively. Thrively is a personalized strength-based learning platform building life skills, self-awareness, and promoting college/career readiness for students K-12. Lisa recently joined Shulman Rogers law firm as the Business Development Manager for the Business Group. She focuses on helping startups and emerging growth companies get to the next level. Lisa also founded The Heartsongs Luncheon Fund which raises money for Children's National Health System. Heartsongs is in its 17th year and has raised well over $1,000,000 for the Hospital.
---
Gail Gaspar
Creator, Leading True Signature Coaching Program
Gail Gaspar is an expert on mid-life leadership and well-being, and creator of the Leading True Signature Coaching Program.
Over the past 9 years, she has guided hundreds of high-performance professionals at all levels of organizations, from CEOs to middle managers to emerging leaders – to understand themselves better, communicate better, lead better. Her clients' careers often look impressive on the outside, yet they reach a point where they feel stalled or stuck on the inside. Clients include corporate and non-profit executives, physicians, attorneys, entrepreneurs, managers, coaches, and consultants. The goal is to move from struggle to success, as they define it, to move past obstacles into their next role with revitalized purpose and impact.
Gail found her way to coaching in her 40's and is on a mission to help others realize their own Leading True dream. She finds that many people give up too soon when it comes to living their dream and creating meaningful impact. This seems to happen more as we grow older, get more comfortable and identify with past career and lifestyle choices. She is dedicated to helping others evolve, at any age and stage, in a way that is informed, strategic and in alignment with what matters now.
Gail is a Coaches Training Institute-certified coach with an MA in Education/Human Resource Management from The George Washington University and an undergraduate degree in Psychology.
Outside of work, Gail enjoys spending time with family and friends, taking hikes and photographs, writing, traveling and keeping fit running with her labradoodle, weight training and practicing yoga. She's a hardcore chocoholic and fan of The Marvelous Miss Maisel. You can find out more about her at gailgaspar.com.
---
Katy Strei
Executive Vice President, Human Resources and Chief Human Resources Officer Emergent Biosolutions
Ms. Strei joined Emergent BioSolutions in 2016 and has served as executive vice president, human resources and chief human resources officer since April 2017. She previously served as senior vice president and chief human resources officer from January 2016 to March 2017. Prior to joining Emergent, Ms. Strei was an independent consultant, specializing in leadership and organization development from February 2014 to January 2016.
Ms. Strei has extensive experience in human resource leadership roles, having previously served as vice president of global leadership and organization development at MedImmune from June 2005 to January 2014, director of executive development at Fannie Mae from May 1999 to May 2005, and program director, director of training, as well as corporate manager for ManorCare Health Services from August 1992 to May 1999.
Ms. Strei received a B.A. in Sociology from Lawrence University and an M.S. in Organization Development from American University/NTL Institute. Ms. Strei also holds a certificate for Leadership Coaching from Georgetown University.
---
Questions: Please call Jodi Shulimson at 301-348-3769 or email