From Sanctuary to Synagogue
August 11, 2021
8:00 PM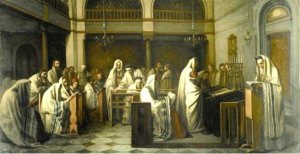 Wednesday, August 11, 2021, at 8 pm via Zoom
From Sanctuary to Synagogue
Robert Stieglitz, Rutgers University
This illustrated lecture details the origins of the synagogue and its decorative arts. This religious institution and its practice have roots that can be traced back to the Biblical traditions of the "sanctuary"(miškan), also known as the Tabernacle, and the subsequent permanent "house" (bayit), or temple (miqdaš) built for the God of Israel.
Special attention will be given to the artistic motifs unearthed in the ancient synagogues unearthed in Israel, structures primarily datable to the Byzantine period (4th-7th centuries C.E.). The synagogues and their art can be seen as the culmination of a long process of development, whose roots are traceable to the Hellenistic era (3rd-1st centuries B.C.E.).
Robert Stieglitz is Professor Emeritus at Rutgers University
---
BAF and its sister organization in Northern Virginia (BASONOVA), are delighted to announce a joint resumption of their lecture series on the ancient Near East and Eastern Mediterranean. This series will be broadcast "live" via Zoom, and "attendees" will be able to direct questions of the presenters.
How to Access the Lecture Series
We will announce additions to the line-up of presenters on a regular basis, as it is our aim to offer more than one event each month. Members will also receive a regular listing of recommended lectures in the public domain.
If you wish to subscribe to the series*, please access the BASONOVA PayPal portal and use a credit card for a one-year subscription ($35 per family). Go to: http://www.basonova.org/membership-form.html
It is also possible to access the series one lecture at a time, for $6 per lecture. To receive your single-lecture Zoom invitation, go to: http://www.basonova.org/next-lecture-reservation.html
*Maryland residents will be enrolled in BAF and Virginians will be enrolled in BASONOVA. There is no advantage in enrolling in one group versus the other, only that when in-person lectures begin again you will be apportioned to the group that matches your state of residence.