Russia, Ukraine and Beyond
May 24, 2022
1:15 PM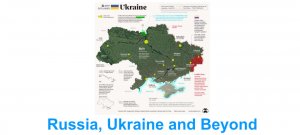 Russia, Ukraine, and Beyond
Tuesday, May 24 | 1:15 PM | JCC Social Hall
Join the JCC Men's Club for a special lecture by Stuart Goldman.
Dr. Goldman has been teaching and writing about Russia and about the war his entire adult life: first as a professor of Russian history at Penn State; then as the principal specialist on Russian/Eurasian political/military affairs for Congress; finally, as a published author in the field of military history. Soon after Putin's invasion, Dr. Goldman started a blog: "Russia, Ukraine, and Beyond" His talk will be on some aspect of that conflict, the specific focus will be based on recent developments. Open to the community. – Also, on Zoom.
https://us02web.zoom.us/j/209025248?pwd=Rkdud2VNWmFSMnU5aWdyN0ZwZy9mdz09
For more information, contact Toby Gottesman at tgottesman@yahoo.com or 240-221-3553.