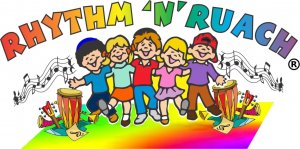 IN-PERSON Rhythm 'N' Ruach with Auntie A: Music 'n' Yoga
Wednesday, August 11 | 10:00 – 10:45 AM | $5 a child
Cost: $5 per family
Where: Bender JCC Front Lawn
Rhythm 'N' Ruach partners with Yoga Yeladim (Kidding Around Yoga) to create joyful Jewish learning experiences through movement. Research has shown that music and movement have been considered to be an anchor in keeping people connected to their Jewish Identity.  Trained Rhythm 'n' Ruach facilitators introduce songs and yoga poses that you will remember from your youth as well as brand new music and movements,  giving the whole family a Joyful Jewish experience.
Yoga and meditation have been considered for a long time as wonderful means of stress management. Kidding Around Yoga uses a system based on the classical study of yoga and transforms it into an experience for children to both introduce them to yoga as well as inspire them to develop a practice and give them tools to take into adulthood. Rhythm 'n' Ruach specializes in sharing Jewish values, music, and yoga with children from birth to 6 years old.
Masking OUTDOORS for children and staff is OPTIONAL when social distancing CAN BE maintained.
Masking OUTDOORS for children and staff will be MANDATORY when social distancing CANNOT be maintained.
Caregivers will be required to stay for the entirety of the program.
If you have any questions, contact Jen Radosh at jradosh@benderjccgw.org.
This event is partnered with PJ Library.

---