Restoration at the Church of the Holy Sepulchre
October 23, 2019
8:00 PM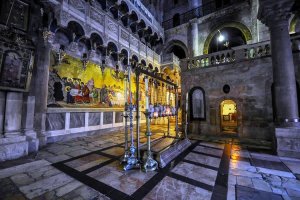 Restoration at the Church of the Holy Sepulchre
Kristen Romey
Since 2016, a team from National Geographic has been documenting the restoration of the Edicule at the Church of the Holy Sepulchre in the Christian quarter of Jerusalem. Considered the holiest site in Christianity, the Edicule (a small chapel within the Church) is traditionally ascribed to contain the empty tomb of Jesus of Nazareth.
The Church has been a major Christian pilgrimage destination since its creation in the fourth century CE, as the traditional site of the burial and resurrection of Jesus according to the New Testament: thus, its original Greek name, Church of the Resurrection.
This presentation will illustrate the restoration of the Edicule and demonstrate what science has revealed about the origins and construction of the monument. Also presented will be updates on the next phases of restoration work that are about to take place at the Holy Sepulchre.
Kristin Romey is an editor and writer covering archaeology and culture for the National Geographic Society
Please join us for a series of eight scholarly lectures on the latest archaeological research findings and related fields such as history, art, and texts of ancient times in the Near East and Eastern Mediterranean. No reservations.
Fees per lecture are
free – high school students;
$5 – Residents of CES Life Communities, college students, and co-sponsors;
$8 – BASONOVA & Bender JCC members, a
$10 – the general public.
Pay at the door – cash or check only
To subscribe to the entire 8 session lecture series for $48, or for more information, please contact BAF.JCCGW@gmail.com.