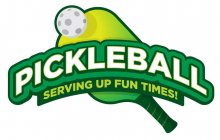 Interested in learning how to play pickleball? Instructor Jenny Sonnier (IPTPA Certified) is offering a 1-day personalized pickleball clinic! This clinic will focus on teaching the fundamentals of the sport and how to use proper technique while engaging in the game! Participants will perform various skills and drills to improve their game.
Beginner | Wednesday, June 1 | 12:00 – 1:00 PM
Advanced Beginner (some experience) | Saturday, June 4 | 12:00 – 1:00
Spots are limited – register now!