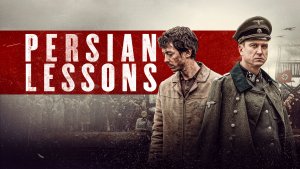 Cinema J Matinee @ Leisure World: Persian Lessons
Wednesday, April 27 I 1:30 PM
Fee: $10 [in advance]; $12 [Day Of];
Only checks are accepted for day-of-ticket purchases.
Narrative I Belarus, Germany, Russia I 2020 I 127 minutes I English Subtitles
*Screening Location: 3300 N. Leisure World Boulevard -Clubhouse II Auditorium
*INDOORS * IN-PERSON *OPEN TO ALL
Nazi-occupied France, 1942. Gilles, a young Belgian man is arrested by the SS alongside other Jews and sent to a concentration camp in Germany. He narrowly avoids execution by swearing to the guards that he is not Jewish, but Persian. This lie temporarily saves him, but then Gilles is assigned a seemingly untenable mission: to teach Farsi to the SS officer in charge of the camp's kitchen who dreams of opening a restaurant in Persia once the war is over. In reality, Gilles doesn't speak a word of Persian, and to save himself from certain death, he must fabricate an entire language, word by word, without raising suspicion. Persian Lessons is a hugely compelling, highly original Holocaust drama inspired by true events. It ends on a note that's both gripping and heartfelt, making it one of the hidden gems of the year.
*Presented by Bender JCC-CoA and JRLW.
Questions: Please contact Frieda Enoch:
fenoch@benderjccgw.org or at 301-348-3809