Paint & Sip: Tree of Life
September 30, 2021
5:30 PM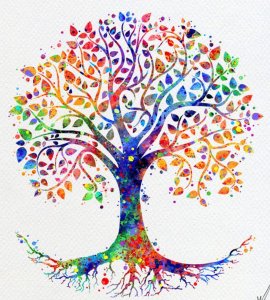 Paint & Sip: Tree of Life – REGISTRATION FULL
Thursday, September 30 | 5:30 – 7:30 PM| $30
Join artist and mindfulness teacher, Gianna Vallefuoco, for a fun-filled evening of art and wine under the tent at the Bender JCC. Gianna will guide us through a Tree of Life painting activity. She will teach us how to use masking fluid, watercolor, and pen & ink to create our own personal Tree of Life painting; embracing what truly makes each of us feel alive! From connecting to our roots and what grounds us, to our branches and what inspires us, this is an opportunity for mindfulness and creativity. Be prepared to let go of judgment and embrace curiosity and your inner artist. You'll be mindfully guided through a brief, liberating meditation and journaling prompt, followed by a multimedia art activity to create your Tree of Life. No art experience is necessary.
The Tree of Life symbol represents our personal development, uniqueness, and individual beauty. Just as the branches of a tree strengthen and grow upwards to the sky, we too grow stronger, striving for greater knowledge, wisdom, and new experiences as we move through life. This is your chance to move into what excites you and also scares you a little in life, bringing clarity to your calling.
Art supplies and 2 drink tickets are included in the ticket price (must be 21 years or older to consume alcohol).