JxJ Presents: Orchester Praževica
May 23, 2021
1:00 PM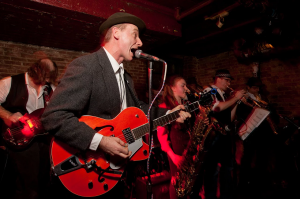 ORCHESTER PRAŽEVICA
Outdoor Concert at the Bender JCC of Greater Washington
Sunday, May 23 | 1:00 PM | $15 | Free for children under 12.
High energy dance music drawing on the traditions of Eastern European Czardas, Klezmer, and Gypsy Swing, but also widely influenced by jazz and blues.
Under the direction of Slovak born-and-raised guitarist and singer Tomáš Drgoň Orchester Praževica delivers an honest, authentic, and entertaining mix of folklore, jazz, and dance music suitable for everything from upscale clubs to dives, jazz festivals to mosh pits, art receptions to underground galleries.
Orchester Praževica has performed at several prestigious stages including the Atlas Performing Arts Center in Washington DC, Patterson Theater in Baltimore, The Drom in NYC, and shared stage with the Hungarian Gypsy folk supergroup Parno Graszt, the Romanian Gypsy brass legends Fanfare Ciocarlia, Boban, and Marko Markovic Orchestra, and other greats on the "not so mainstream" music scene.
For the best experience, bring your own beach chairs and/or picnic blankets!