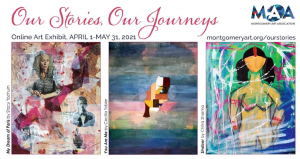 Our Stories, Our Journeys: Online Storytelling Happy Hour
Thursday, May 20 | 5:00 PM-6:00 PM
The Bender JCC is thrilled to partner with the Montgomery Art Association (MAA) for an inspiring evening of art and storytelling. More than a dozen artists participating in MAA's current online exhibition "Our Stories, Our Journeys" and who took part in a special storytelling training workshop will showcase their works and share the story behind their art in this special online event.
About "Our Stories, Our Journeys"
In this online exhibition, Montgomery Art Association members were invited to interpret the term "journey" in their own way. From the longing of travel to a journey of spiritual or emotional growth, the 37 participating artists highlight traditional, conceptual, abstract, and experimental interpretations. The artworks are accompany
About the Montgomery Art Association
The Montgomery Art Association is a nonprofit supporting the visual arts and artists in Montgomery County and the D.C. metro area. MAA offers a number of opportunities for our nearly 300 members to display and sell their work. They include the annual Paint the Town Labor Day Show in Kensington, where we display hundreds of pieces of art in a judged show and attract more than 3,000 visitors over the holiday weekend. We also offer field trips, Plein air painting outings, business workshops, art-themed social events, and monthly meetings with noteworthy guest speakers. MAA strives to make a vital contribution to our community. In partnership with the Montgomery College Art Foundation, we provide scholarships to emerging artists. We also support and participate in community events. Visit us online at montgomeryart.org.
*The Zoom link will be sent to registrants in your confirmation email and sent again the day before our event.