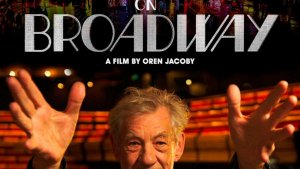 Cinema J Presents: On Broadway
Thursday, December 16 I 7:00 PM
Fee: $12
Documentary I USA I 2020 I 84 minutes
For anyone who loves theater, this contemporary history of Broadway is a joy! Legends of the stage and screen including Helen Mirren, James Corden, Hugh Jackman, and Ian McKellen take us behind the scenes of Broadway's most groundbreaking and beloved shows, from "A Chorus Line" to "Hamilton." Iconic performances by Lin Manuel Miranda, Patti Lupone, Bernadette Peters, James Earl Jones, and Mandy Patinkin lead the way. They tell the inside story of Broadway theatre, its decline, and its revival.
Directed by Academy-Award nominee Oren Jacoby, this documentary is a love letter to the Great White Way. It is a reminder of both the cultural void left in the pandemic's wake and the enormous creative influence of Jewish Americans in musical theater.
Questions: Please contact Frieda Enoch:
fenoch@benderjccgw.org or at 301-348-3809