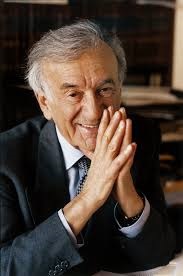 2nd Annual Herman Taube Memorial Program
Ticket Price: $25
Come together as a community to remember the life, literature, and legacy of Elie Wiesel. To commemorate him and his countless contributions to humanity, we invited a panel of speakers to share their personal stories about working, writing, and learning with Elie Wiesel. Join us for an evening, not only to honor him, but to lay claim to continuing his life's work.
"For in the end, it is all about memory…" – Elie Wiesel
Moderated by ELENA BAUM, the Director of The Holocaust Commission of the United Jewish Federation of Tidewater and their annual Elie Wiesel Student Writing and Visual Art Competitions.
RAYE FARR joined the staff of the United States Holocaust Memorial Museum after more than 20 years in documentary television production and historical film research. From 1990 – 1993 she was the director of the USHMM's Permanent Exhibit, leading the team responsible for the micro-design and production of the museum's major exhibition area, supervising the departments of research, design, oral history, photo and film archives, and film production. After the 1993 opening of the museum, she oversaw the establishment and expansion of the museum's Steven Spielberg Film & Video Archive, which she directed until her retirement in October 2013.
RABBI JOSEPH POLAK is an infant survivor of the Holocaust and author of his new memoir, After the Holocaust the Bells Still Ring. He is an assistant professor of public health (health law) at the Boston University School of Public Health; the rabbi emeritus of the Florence and Chafetz Hillel House at Boston University; and the chief justice at the Rabbinical Court of Massachusetts.
DR. AVRAHAM (ALAN) ROSEN is the author or editor of eleven books. He is most recently the editor of Elie Wiesel: Jewish, Literary, and Moral Perspectives. He has held fellowships at the United States Holocaust Memorial Museum, and Yad Vashem, among others. He has taught at universities and colleges in Israel and the United States, and lectures regularly on Holocaust Literature. He earned his Ph.D. in literature and religion at Boston University under the direction of Elie Wiesel and served as his teaching assistant for eight years.
Light refreshments provided
Sponsored by Helene R. Weisz and Richard Lieberman