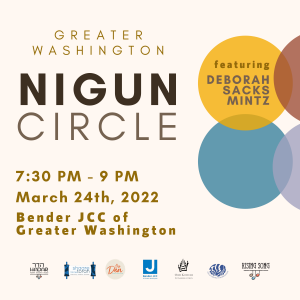 Greater Washington Nigun Circle
Thursday, March 24 | 7:30 – 9 PM
Join us for the first gathering of the Greater Washington Nigun Circle, facilitated by special guest Deborah Sacks Mintz.
Through the meditative power of the nigun–wordless melody–we'll raise our voices and lift our spirits together. Experience the joys of communal song with a participatory Jewish music concert and song session featuring nationally recognized prayer leader and composer, Deborah Sacks Mintz, with spiritual leaders and Jewish musicians from the Greater Washington area.
Free and open to all. Donations welcome.
Vaccines and masks are required.
Presented by Hadar, the Rising Song Institute, Shaare Torah, Bender JCC, The Den Collective, Ohr Kodesh Congregation, and Tikvat Israel Congregation.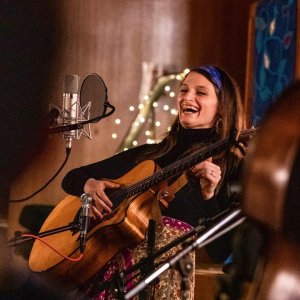 DEBORAH SACKS MINTZ is an educator, practitioner, and facilitator of Jewish communal music, supporting communities and individuals who seek to deepen their practice of empowered song and connective prayer. As a performer and composer, Deborah brings her passion for community-building to her artistic partnerships; in addition to collaborating on over two dozen albums with a diverse array of voices in the Jewish soundscape, Deborah released her debut album of original spiritual music, The Narrow and the Expanse, in 2020. A candidate for rabbinic ordination, Deborah serves the Rising Song Institute as an artist, consultant, and teacher, and will be joining the Hadar Institute's faculty as Director of Tefillah and Music this summer. Learn more about Deborah's work at www.deborahsacksmintz.com