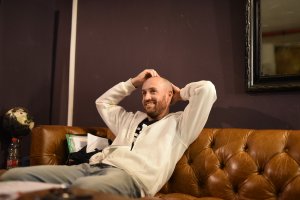 This April, leading Israeli hip-hop band Jimbo J invites you to be a guest artist for their special Yom Ha'Atzamaut Musical Masterclass.
Celebrate Israel with other music lovers for a one-of-a-kind opportunity to learn with lead vocalist and writer, Jimbo, as he breaks down the process of writing and composing some of his most popular songs.
During the class, Jimbo will perform his hits "Asiti," "Matkot," and "Hollywood" accompanied by the band's guitarist, Uriah Wiztum.
The masterclass will combine theoretical and practical knowledge, and is intended for anyone interested in arts and culture—whether as a listener or creator.