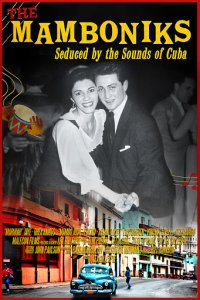 MOVIE MATINEE: THE MAMBONIKS
Tuesday, August 25 I 5:00 PM
Cost: $8.00 (includes screening and talkback)
USA I Documentary I 2019 I 90 minutes
Looking for something new to watch? We have your movie plans picked out for you! Watch the documentary film The Mamboniks between August 21 and August 24, and then join us for a moderated discussion on August 25 at 5:00 PM with the director, Lex Gillespie.
A link for the film screening and a Zoom link will be provided to participants before the event.
Set in New York City, the Catskills, Havana, and Miami Beach, this documentary tells a joyous tale. In the 1950s free-spirited dancers fell in love with the joyous sounds of Cuban music and dance. They sparked a dance craze that swept the nation and the world, earning them the nickname: Mamboniks. Two cultures, Jewish and Latin, met on the dance floor at a time of racial segregation and antisemitism. This documentary is about the power of music & dance to bring people together.
Lex Gillespie is a three-time Peabody Award winner and independent radio and television producer in Washington, D.C., and attended the Columbia School of Journalism. He has produced documentaries and feature stories on music, culture, history, and travel.
Questions? Contact Frieda Enoch fenoch@benderjccgw.org