MOUNT VERNON VIRTUOSI CHAMBER ORCHESTRA CONCERTS When Bach Met Bloch With Cellist Amit Peled
February 2, 2020
11:00 AM & 2:00 PM
11:00 AM Kid-Friendly Family Concert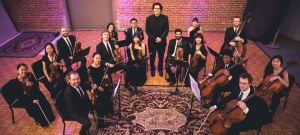 2:00 PM Adult-Oriented Chamber Music Concert
Check out this video from the MVV Family concert on November 3 and see you February 2 for the next one. A chamber music concert unlike any other- where else will you be welcomed onto stage with the musicians and instruments?
Free RSVP for 11:00 AM Concert
Free RSVP for 2:00 PM Concert
The Mount Vernon Virtuosi, a new chamber orchestra established by Peabody Conservatory cello faculty artist Amit Peled, is dedicated to nurturing and training local graduate music students. Artistic Director Amit Peled presents a special concert of the Bach Cello Suites along with selections from Ernest Bloch's From Jewish Life.
BLOCH                "Supplication," From Jewish Life
BACH                 Suite No. 1 in G Major, BWV 1007
BLOCH                "Jewish Song," From Jewish Life
BACH                   Suite No. 4 in E-Flat Major, BWV 1010
BLOCH                "Prayer," From Jewish Life
---
On August 1, we switched to a new, enhanced system for event registration. It's easy to register! Here's how:
The first time that you register for an event in the new system, you will be given the opportunity to create a new account.
Then, just follow the prompts to register?
This account for events at the Bender JCC will be different than the new class registration we are rolling out on October 16.
While they are separate accounts, you are able to use the same email for both.