Girls Night Out: Paint and Sip: Mandala Art & Sacred Space Design
October 21, 2021
5:30 PM
Purchase Tickets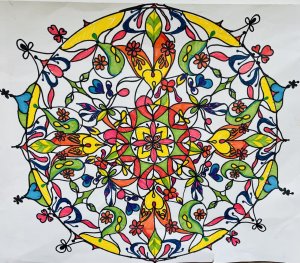 Girls Night Out: Paint and Sip: Mandala Art & Sacred Space Design
Thursday, October 21, 2021| 5:30 – 7:30 PM| $35
Join artist and mindfulness teacher, Gianna Vallefuoco, for a fun & transformative evening of art, human connection, and wine under the tent outside at the Bender JCC. Gianna will teach you to create a mandala as a piece of art, and start or enhance a journaling practice for self-reflection. You will be guided through using ink, paint, and various media. Included in this evening is a brief guided meditation to empower you to design a dedicated space in your home to nurture your creative spirit. Your mandala and your journal will be the first adornments in your sacred space. On this special evening, Gianna will use both her fine arts & mindfulness training, and her 20+ years in construction design to teach you how to create a unique and nurturing space in your home. As always, she will intertwine creativity, intention, and a dash of neuroscience. Be prepared to unleash your creative spirit and create something meaningful to inspire the artist within. No art experience is required, just an open mind and heart.
The mandala, which means "circle" in Sanskrit, is a geometric configuration of symbols creating a circular form. A mandala represents the spiritual journey, starting from the outside to the inner core. It is an artistic representation of the beauty of the universe, and that which connects us all.
Art supplies, a journal, and 2 drink tickets are included in the ticket price (must be 21 years or older to consume alcohol). The program will be held outside, weather permitting. Registration is limited to 30 attendees in compliance with COVID-19 safety restrictions.