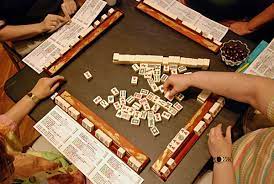 Beginner Mah Jongg Classes
Mondays | 10:00 AM-12:00 PM | May 1-22 | $70 (Members) $85 (Public) | In Person
For first time Mah Jongg players or those who just need a refresher. Come and learn the basics of this fun and challenging game. You will learn the rules, strategy and etiquette of the game with our very popular teacher Michele Heffner. Meet other players and form your own group!
American Mah Jongg is an exciting four-player tile game with Chinese origins. Using 152 tiles depicting Chinese characters and symbols, players pick and discard in turn to form combinations found on the National Mah Jongg League's annual card of hands. Strategy, skill, and luck are needed to be the first player to complete a hand and declare "Mah Jongg!" This 4-session class will be taught by our very popular instructor, Michele Heffner. This class will be taught in person at the Bender JCC. *Space limited to 8 participants.
For more information, contact Marcie Blackman at mblackman@benderjccgw.org or 301-348-3808.
*You will need to purchase a National Mah Jongg League Card to play. The instructor will have the cards for sale.