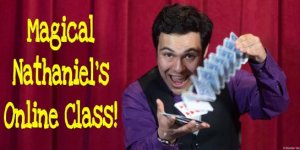 Join Magical Nathaniel's special 30-minute magic class and show! He'll wow you with magic from his award-winning show and you will learn incredible and easy to do magic with materials you can find around the house! This interactive class is a great way to get the kids excited about learning magic that they can show to their friends or family on the next Zoom call.
Recommended for preschool age and up. Younger kids may need assistance from parents.
Don't miss this fun online opportunity!
Please bring two rubber bands, two (preferably unsharpened) pencils, a nickel, and a dollar bill to the workshop.
COST: $12/Family
Learn more at https://www.magicalnathaniel.com/online-class/