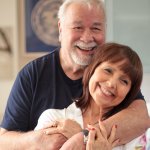 COA FILMS: LOVE IN SUSPENDERS @ LEISURE WORLD
Leisure World-Clubhouse II, 3300 N. Leisure World Blvd, Silver Spring, MD 20906

This is a sentimental romantic comedy between Tami, a widow in her 60s and Beno, a widower in his 70s—two people with different personalities. Love, however, has its own rules. Notwithstanding their differences in lifestyle and personality, interfering offspring and neighbors, they eventually fall in love.
2019|99 Minutes|Hebrew with English subtitles|comedy and romance
COMING OF AGE IN MARYLAND FOR ACTIVE OLDER ADULTS
Coming of Age in Maryland offers monthly activities, excursions, and special events to members aged 60 and over. For more information contact Frieda Enoch at fenoch@benderjccgw.org