Lessans Family Literary Series Presents: Cocktails & Conversations with Eitan Hersh and Ben Sheehan
October 21, 2020
5:00 PM
Purchase Tickets
Lessans Family Literary Series Presents: Cocktails & Conversations with Eitan Hersh and Ben Sheehan
Wednesday, October 21 | 5:00 PM | $10
ABOUT THE EVENT
The election on your mind? The Bender JCC is pleased to partner with the Pozez JCC and JCRC to present the next event in our Cocktails and Conversations Series with political analyst, Eitan Hersh, and comedian and political savant, Ben Sheehan. Just in time for the election, Eitan and Ben will be discussing civic engagement and how to be a more active citizen. In true democratic form, tonight, we offer two cocktail options for your drinking pleasure, Eitan's personal favorite, a Sazerac, or Ben's constitution themed go-to, the People's House Whiskey. You decide.
ABOUT THE BOOKS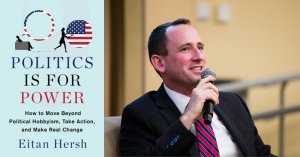 Politics Is for Power: How to Move Beyond Political Hobbyism, Take Action, and Make Real Change
by Eitan Hersh
Do you consider yourself politically engaged? Probably, yes! But are you, really? The uncomfortable truth is that most of us have good intentions. We vote (sometimes) and occasionally sign a petition or attend a rally. But we mainly "engage" by consuming politics as if it's entertainment or a hobby. We obsessively follow the news and complain about the opposition to our friends or spouse. We tweet and post and share.
Instead, political scientist and data analyst Eitan Hersh offers convincing evidence that we should be spending the same number of hours building political organizations, implementing a long-term vision for our local communities, and getting to know our neighbors, whose votes will be needed for solving hard problems. We could be accumulating power so that when there are opportunities to make a difference—to lobby, to advocate, to mobilize—we will be ready. Aided by cutting-edge social science as well as remarkable stories of ordinary citizens who got off their couches and took political power seriously, this book shows us how to channel our energy away from political hobbyism and toward empowering our values.
In an age of political turmoil and as the 2020 election looms, Politics Is for Power is an inspiring, vital read that will make you hopeful for America's democratic future.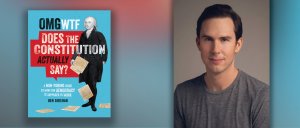 OMG WTF Does the Constitution Actually Say? A Non-Boring Guide to How Our Democracy is Supposed to Work
by Ben Sheehan
Do you know what the Constitution ACTUALLY says? This witty and highly relevant annotation of our founding document is the go-to guide to how our government really works (or is supposed to work).
Written by political savant and entertainment veteran, Ben Sheehan, and vetted for accuracy by experts in the field of constitutional law, OMG WTF Does the Constitution Actually Say? is an entertaining and accessible guide that explains what the Constitution actually lays out.
With clear notes and graphics on everything from presidential powers to Supreme Court nominations to hidden loopholes, Sheehan walks us through the entire Constitution from its preamble to its final amendment (with a bonus section on the Declaration of Independence). Besides putting the Constitution in modern-day English so that it can be understood, OMG WTF Does the Constitution Actually Say? gives readers all of the info they need to be effective voters and citizens in the November elections and beyond.
ABOUT THE AUTHORS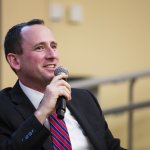 EITAN HERSH received a PhD from Harvard University in 2011. He served for six years on the faculty of Yale University as an assistant professor of political science and a resident fellow of the Institution for Social and Policy Studies before becoming a tenured associate professor of political science at Tufts University. His peer-reviewed articles have been published in major political science journals. Hersh is the author of Hacking the Electorate and Politics Is for Power.
---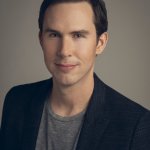 BEN SHEEHAN is a former award-winning executive producer at Funny Or Die. He founded OMG WTF (Ohio, Michigan, Georgia, Wisconsin, Texas, Florida) to teach voters about state executive races during the 2018 midterms. The Hollywood Reporter listed him as one of entertainment's 35 Rising Executives Under 35 and OMG WTF's Gerrymander Jewelry was a finalist for Fast Company's World Changing Ideas 2019. In 2016, he helped register 50,000 voters through digital videos as the executive director of Save the Day. The projects he's been involved with have received over a billion views.
---
Both books can be ordered through Politics and Prose, a local bookstore in Washington, DC. Books ordered through Politics and Prose will include a signed book plate. Click the purchase link and use your 10% off promo code included in your registration confirmation email to order your copies.
The Zoom link for the event will be emailed to all registrants 24 hours before the program. Please check your email between 3:00 – 5:00 PM the day before the program to make sure you received the Zoom link. If it is not in your "inbox", please check "junk" or "spam" folders. No confirmation? Please contact Marcie Blackman at mblackman@benderjccgw.org