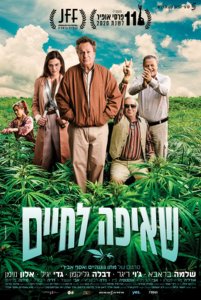 Cinema J @ the Bender JCC: Greener Pastures Thursday, June 9 I 7:00 PM I $12 Hebrew w/English subtitles I Features I Israel, 2020 I 90 minutes Screening Location: Bender JCCGW – Kreeger Auditorium
A heartwarming and irresistible comedy from Israel, Greener Pastures has been nominated for 12 Israeli Academy Awards, including Best Film, Best Director, and Best Lead Actor.
Dov, a widower, is forced by his family to move into a nursing home against his will. All he can think about is buying his old house back, and getting out. When he notices that all of his fellow residents smoke legal medical cannabis, he realizes that weed will be his salvation – selling it, not smoking it. But when love, cannabis and crime come into play, will he risk it all to make his dream come true?
Questions? Please contact Frieda Enoch: fenoch@benderjccgw.org or at 301-348-3809