Israel Fest
May 19, 2019
1:00 - 4:00 PM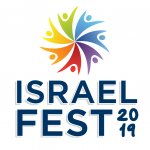 All Are Welcome!
FREE admission! FREE parking & METRO accessible.
Overflow parking available at CESJDS lower school, JSSA visitor lot and Federal Plaza.
*Rain or Shine*
Join us for our annual community celebration in honor of Israel's independence, sponsored by the Jewish Federation of Greater Washington and media sponsor, Washington Jewish Week. The Bender JCC is proud to host this event bringing together synagogues, community organizations and local agencies.
Come experience JVOICE – a Eurovision style singing competition!
Israel Fest 2019
Activities
Israeli Folk Dancing (1:30 – 2:00)
J-Voice Singing Competition (2:00 – 3:15)
Bounce House
Interactive Art Projects
DJ spinning the latest hits out of Israel
Family-style Escape Room
Kids gym
Food Vendors
It is the policy of the Bender JCC to allow photographs and video footage of participants to be used in Bender JCC produced materials, including but not limited to websites, brochures, posters and other printed materials. Participants may request that photographs and video footage not be used by completing a form requested from the membership desk.