J TALKS: INHERITANCE: A MEMOIR OF GENEALOGY, PATERNITY, AND LOVE
May 11, 2021
5:00 PM
Purchase Tickets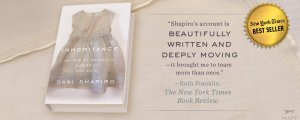 J TALKS – INHERITANCE: A MEMOIR OF GENEALOGY, PATERNITY, AND LOVE
Discussion with Author, Dani Shapiro
Tuesday, May 11 I 5:00 PM I $10/$20
From this acclaimed, best-selling author comes a memoir about the staggering family secret uncovered by a genealogy test. What makes us who we are? What combination of memory, history, biology and experience defines us? After taking a DNA test on a whim, Dani Shapiro learns that the father who raised her was not her biological father. This is the story of a woman's urgent quest to unlock the story of her own identity, a story that has been hidden from her for more than fifty years. Shapiro will share with us her engrossing and emotional journey.
Please note: There are a limited number of signed paperback copies of Dani Shapiro's book, Inheritance available for purchase. The cost of the book is an additional $10, and you will need to select that option when registering.
WORDS OF PRAISE: "Fascinating… With thoughtful candor, [Shapiro] explores the ethical questions surrounding sperm donation, the consequences of DNA testing, and the emotional impact of having an uprooted religious and ethnic identity. —Publishers Weekly (starred review)
"Beautifully written and deeply moving…." —Ruth Franklin, The New York Times Book Review
DANI SHAPIRO is the author of the NY Times bestselling memoir Inheritance, as well as Hourglass, Still Writing, Devotion, and Slow Motion and five novels, including Black & White and Family History. Also an essayist and a journalist, Shapiro has published in The New Yorker, Elle, Vogue, O-The Oprah Magazine, The New York Times Book Review, the op-ed pages of the New York Times, and many other publications. She has taught in the writing programs at Columbia, NYU, the New School, and Wesleyan University. In 2016, she launched the hit podcast Family Secrets, which has now been downloaded more than 16 million times, and in April of 2020, she launched a daily podcast called The Way We Live Now.
You will receive the Zoom link the morning of the program. We look forward to seeing you on Zoom!
Questions? Contact Frieda Enoch fenoch@benderjccgw.org