When: Wednesday, May 29, 2019 – 7:30 pm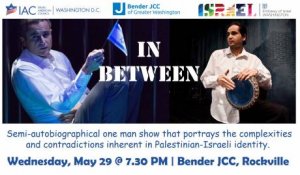 Some days Ibrahim Miari is a living metaphor for the promise of Middle East peace and reconciliation; other days he might be accused of being anything from a knee-jerk Zionist to a radical Islamic terrorist.
In Between is a semi-autobiographical one-man show that portrays the complexities and contradictions inherent in Palestinian-Israeli identity. On the precipice between two cultures stands Ibrahim Miari, son of a Palestinian Muslim father and a Jewish Israeli mother. In this riveting and thought-provoking one-man show written and performed by Miari, he recalls his childhood in Israel and brings us into the complexities and contradictions that define his life "In Between" two worlds. With deftness, wit, and humor, Miari transcends today's political distractions and reminds us of the deeper inner struggles and bonds that link us all.
Miari is an actor, a playwright, and a Sufi dancer.
*The show is in English and is suitable for age 16+
**Tickets are available online only, there will be no at-the-door tickets sale.