History of Sparta & How It Triumphed Over Athens
April 28, 2021
8:00 PM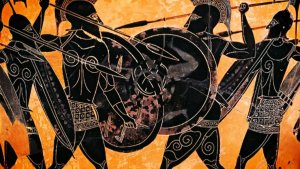 Wednesday, April 28, 2021 at 8 pm Eastern via Zoom
History of Sparta & How It Triumphed Over Athens
Alfred S. Bradford, University of Oklahoma
The Spartans were once the supreme infantry power in the Greek world. Their enemies usually did not dare to face them in the field and pretty much came into battle expecting to lose. The Athenians were the supreme naval power, so far superior that after the first few engagements of the Peloponnesian War, their enemies fled if they saw them on the seas.
These two powers fought each other and for years tried to figure out how best to deploy their military strengths and defend their weaknesses. This talk, after a brief introduction to Spartan society and history, analyzes how the Spartans found a winning strategy and were able to defeat the Athenians. Perhaps, more than any other factor, the key to victory was the ability of the Spartans to produce leaders who could find the weak spots in the Athenian system.
Alfred S. Bradford holds the John Saxon Chair in Ancient History at the University of Oklahoma
---
BAF and its sister organization in Northern Virginia (BASONOVA), are delighted to announce a joint resumption of their lecture series on the ancient Near East and Eastern Mediterranean. This series will be broadcast "live" via Zoom, and "attendees" will be able to direct questions of the presenters.
How to Access the Lecture Series
We will announce additions to the line-up of presenters on a regular basis, as it is our aim to offer more than one event each month. Members will also receive a regular listing of recommended lectures in the public domain.
If you wish to subscribe to the series*, please access the BASONOVA PayPal portal and use a credit card for a one-year subscription ($35 per family). Go to: http://www.basonova.org/membership-form.html
It is also possible to access the series one lecture at a time, for $6 per lecture. To receive your single-lecture Zoom invitation, go to: http://www.basonova.org/next-lecture-reservation.html
*Maryland residents will be enrolled in BAF and Virginians will be enrolled in BASONOVA. There is no advantage in enrolling in one group versus the other, only that when in-person lectures begin again you will be apportioned to the group that matches your state of residence.