אתם מוזמנים לבוא ולהנות עם ילדיכם מההצגה עכבר העיר ועכבר הכפר מבית תיאטרון אורנה פורת – אשר מגיעה הישר מהארץ אלינו!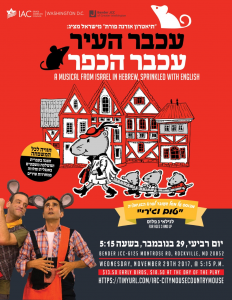 ההצגה מספרת על בובי וצ'ופצ'יק, שני עכברים שגדלים כחברים הכי טובים, עד שדרכיהן נפרדות – בובי עובר לגור בעיר הגדולה, וצ'ופצ'יק משתקע בטבע, בשדה הפתוח. לאחר שנים בובי עכבר העיר מגיע להתארח אצל חברו. צ'ופצ'יק נרגש מהמפגש, אך חברו העירוני סובל מהביקור, מהאוכל, מהאווירה, ואפילו לישון אינו מצליח. הוא עומד בתוקף על כך שחברו הכפרי יגיע לביקור בעיר כדי להראות לו היכן באמת נמצאים "החיים הטובים". צ'ופצ'יק נענה מיד, אך הביקור שמתחיל בהתלהבות מנפלאות העיר, מסתיים בסכנת חיים ואכזבה גדולה. שני החברים, שכבר חשבו שלא ייפרדו שוב לעולם, מבינים שלא כל מה שטוב לאחד בהכרח טוב לשני, ושלכל אחד מתאים משהו אחר. אפשר לכבד את צרכיו והעדפותיו של האחר – ועדיין להישאר חברים טובים לתמיד.
ההצגה תערך בעברית עם משפטים באנגלית, ועם מחרוזת שירים בלתי נשכחת – בואו להנות מחוויה לכל המשפחה!
עלות כרטיס מוקדם – 13.5$
עלות כרטיס ביום המופע – 18.5$
מהרו לרכוש כרטיסים היום!
---
Come and enjoy with your kids from the show The Town Mouse and the Country Mouse.
This production is in Hebrew, and produced by Orna Porat Children's Theater from Israel. This is an exciting experience for kids to watch a show based on an international story, with an original production from Israel – all while never leaving the D.C. area!
Designed for kids ages 3-10. We hope to see you all there!
Early bird tickets – $13.5
Day of the Event tickets – $18.5
If you have questions about this event, please contact Anat Kaufman, IAC Education Programs & Community Engagement Director.