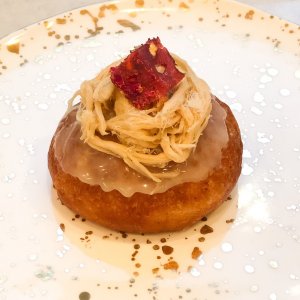 Frying Up Hannukah Desserts with Chef Vered
Tuesday, December 15 | 5:00 PM | $10
Chef Vered is back with Hannukah treats for the whole family.
Grab your cooking oil and an apron and join Chef Vered (from your kitchen) to fry up your favorite Hannukah desserts including an array of sufganiyot from around the diaspora. This program is sure to light up your sweet tooth and your table. Family Friendly.
Chef Vered (and you) will be frying up
Moroccan sfenj doughnuts – the mother of all soufganiyot
Romanian cheese doughnuts (papanasi)
Classic strawberry jelly soufganiyot
Halva and chocolate soufganiyot topped with Turkish delight
Registrants will receive a prep packet prior to the event. The prep packet will include recipes, pre-class prep instructions, ingredient and equipment lists.
A Zoom link will be provided to registrants the morning of the event. Please check your spam if you have not received the link by the evening prior to the program.
For more information, please contact Marcie Blackman at mblackman@benderjccgw.org.
---
ABOUT VERED GUTTMAN
Vered Guttman is an Israeli chef and food writer. She is a regular contributor for Haaretz, where her column on Israeli and Jewish food appeared since 2010. Vered's writing was also published in the Washington Post, Slate, Moment Magazine and others.
In 2005 Vered launched a catering company and had the pleasure of bringing modern Israeli and Middle Eastern flavors to private parties, diplomatic events, and even to the White House, where she was invited to cook for President Obama's Passover Seder in 2014.
Growing up in Israel, Vered took her first steps in Jewish cooking at the tables of her two grandmothers, one from Poland, the other from Iraq.
Thank you to our sponsor Food Lion and don't miss their expanded Kosher section at their Rockville Pike store:

---