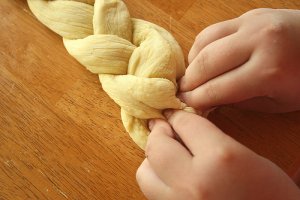 Location:B'nai Israel Congregation
6301 Montrose Road
Rockville, MD 20852
Challah Bake Off. It's On.
Date: Sunday, October 21, 2018
Time: 5:00 pm – 7:00 pm
Location: B'nai Israel Congregation
Address: 6301 Montrose Road, Rockville, MD 20852
More Details
Type: Challah Bake, Cooking Demonstration, Social Event
Audience: All
Membership: Not Required
Registration: Required
Cost: $18/adult, $12/child (ages 2–12), Children under 2 are free of charge, $50 immediate family maximum
Topic: Baking/Cooking, Just for Fun, Shabbat
Families are invited to come together for crafts, a dairy dinner, and the mixing of challah dough to take home and bake for Shabbat. Each child will have a chance to braid pre-made dough that will be frozen and donated to local organizations.
The registration deadline is Thursday, October 11. Click here to download the reservation form.
This event is co-sponsored by the Bender JCC, PJ Library, and CESJDS.
*This is an allergy-aware event. The challah bake is nut free; gluten and egg allergies will be accommodated.