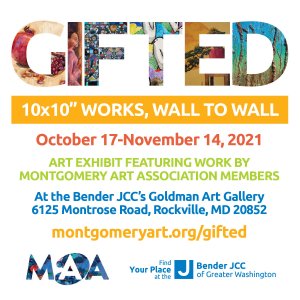 Gifted: 10×10 Works, Wall to Wall
Goldman Art Gallery
October 17-November 14, 2021
Join us for a special gallery reception with MAA artists on Sunday, October 31, 2021, from 12:30-2:00 pm.  Open to all.
The Bender JCC is proud to partner with the Montgomery Art Association (MAA) to present "GIFTED: 10×10 Works, Wall to Wall". We invited local artists from the Montgomery Art Association to create original works sized to exactly 10×10 inches. Inspired by the popular square style of images on Instagram and other social media channels, artists could choose any subject and medium of their liking. The results are 50 works, which include oils, watercolors, acrylics, alcohol ink, mixed media and photography.
All works are priced at $125 plus sales tax, in order to provide the community with an affordable opportunity to purchase original artwork in time for the holidays.
About MAA: Since 1954, the Montgomery Art Association has supported the visual arts, artists in Montgomery County and the DC region. The nonprofit has more than 330 members, providing show and business-of-art learning opportunities, plus annual scholarships to Montgomery College art students. To learn more please visit montgomeryart.org.
To purchase artwork please purchase here


---